2017 Chevrolet Volt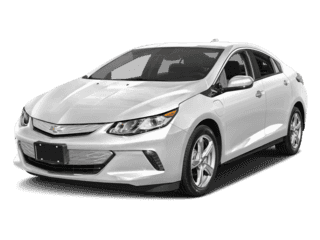 The 2017 Chevrolet Volt is an electric vehicle that is a hatchback and runs on an electric charge with 2 powered electric motors. These two features make this hybrid get an incredible gas mileage of 42-city and 43-hwy and should be enough to convince a consumer to purchase this vehicle. When the 2017 model was released, they brought out a few changes to the vehicle and a few different trims that will allow consumers to upgrade their model to a nicer, high-class option. The 2017 Chevrolet Volt has received many great safety reviews, consumer reviews, and overall ratings for a hybrid, which means you can't go wrong driving this car. Contact the Jim Glover Auto Family to learn more about this sleek ride or to get set up with a test drive!
The standard features that you will find on this 2017 Chevrolet Volt have been updated since the 2016 model. The technology features include Apple CarPlay, Android Auto, 4G LTE Wi-Fi, Chevrolet MyLink, Sirius XM Satellite radio, AM/FM, audio interface USB port, Bluetooth, auxiliary cord, 8" diagonal colored LCD touch screen, and 6 speaker with Bose premium audio system. Other standard features on this hybrid include a charge cord, keyless open with passive unlock and lock on all doors, remote vehicle start system, power windows, automatic climate control with air conditioning, electric power steering, 10.6 cubic feet of cargo room, a cargo cover, rearview camera, rear 60/40 split folding, 5/5 seating capacity, power outlets, cruise control, a covered storage compartment for the portable vehicle charge cord, drive mode control switch, leather wrapped steering wheel, charge control that is location based and is selectable depending on GPS enabled, charge control that is programmable for the time of day, carpeted front and rear floor mats, and a rear-window electric defogger.
The performance of this 2017 Chevrolet Volt is all thanks to the 1.5L direct injected high-efficiency engine, the 149 horsepower, and the 294 lb-ft of torque. The 1.5L direct injected high-efficiency engine, this hybrid hatchback gets 53 pure electric miles and 420 miles with a full charge and a full tank gas. If the battery starts to run low from the electric charge, then the generator that is powered kicks in and is engaged to keep the vehicle going. To fully charge this vehicle, you can use a 120-volt portable cord, which will take up to approximately 13 hours to reach a full charge. Another option is to install a 240 volt, which is have the Chevrolet Volt fully charged in approximately 4 and a half hours. Once the vehicle is fully charged, you can expect to drive up to 1,000 miles with fill ups in between. There is also an option where you can program a home setting to charge, which allows off-peak electricity rates. Another reason the Chevrolet Volt runs so good is because of the second-generation battery that holds more energy than the first one and is lighter.
With the 2017 Chevrolet Volt being an electric vehicle, some may think the safety features are less, but luckily, this vehicle has a very high rating for safety. The safety features that you will find on this model is a lane keep assist alert, rear cross traffic alert, forward safety awareness, 10 standard air bags, pedestrian safety signal, child lock system, LED daytime running lamps, rear vision camera, tire pressure monitor system, automatic emergency brake, a 4-wheel anti lock disc brake, stabiliTrak; electronic stability control system and many OnStar alerts. The OnStar alerts include automatic crash response, crisis assist, emergency services, hands free calling, low mileage discount, remote door unlock, remote horn and lights, roadside assistance, stolen vehicle assistance, turn by turn navigation, and a vehicle diagnostics. Another popular safety feature that this hybrid sedan has is a Teen Driver system. The Teen Driver System is a built-in system that allows parents to be alerted when their teen is driving. The features that you can control are the audio volume, muting the audio when the front seat driver or passenger is not wearing their seatbelt, and giving audible and visual notifications when the vehicle reaches a certain speed. These are all notifications that can be sent to a parent's mobile device to be informed. With all the updated safety features on the 2017 Chevrolet Volt leaves no need for an explanation as to why this vehicle was rated an 5 out of 5 overall for safety by the National Highway Traffic Safety Association. The IIHS also reviewed this vehicle and gave it a top safety rating and gave good scores on all crash tests and headlight safety first. Another test that was done on this vehicle was a front crash prevention test, which is where a 12 and 25 mph collision occurs, and the car has to avoid it. The overall rating for this test was superior, even though the highest is a good rating. This vehicle will make all passengers feel safe.
Comparing the 2016 Chevrolet Volt to the 2017 Chevrolet Volt will show the technology and performance upgrades that happened in a year. The first major upgrade for this vehicle in 2017 is that it is officially sold nationwide because before it was only sold is select areas. The updates besides being sold everyone include more high tech safety features such as cruise control, collision warning, and lane keeping assist, intelligent high beams and the Teen Driver built-in system. These features can come with the car or you have the option to opt out. Another big feature that was added to the 2017 model is the premium package that allows you to upgrade your vehicle to nicer features than the standard. Additions that they made to the 2017 Chevrolet Volt are an exterior color and the options of an LT trim or a Premier Trim. The new exterior color they released is a citron green, which allows this vehicle to stand out. The LT trim is the standard model that the Chevrolet Volt comes in with an option to upgrade to the Premier, where you can add additional packages to make it fancier. Our team will not only help you find the Volt trim that satisfies your driving needs, our Chevy service department will keep it running smoothly so that you can enjoy it for years to come! Reach out to our collection of auto dealerships in the Tulsa, OK area to find your Volt today!