2018 Chevrolet Trax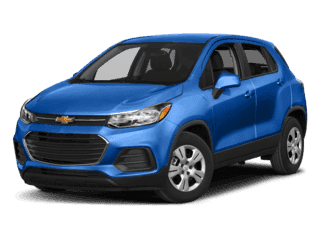 Coming Soon To The Tulsa, OK Jim Glover Auto Family
The Jim Glover Auto Family is eager to welcome you over to our collection of dealerships that serve the drivers of Tulsa, Oklahoma soon! Make your way over to explore the impressive, competitively priced vehicles we have for sale right now, or to learn about the sleek 2018 Chevrolet Trax that is set to hit the market later this year! Our Jim Glover associates will happily review the features that come standard on this ride, any add-on options you may be interested, and can help you get your auto loan process started so that you're prepared to take home a 2018 Trax as soon as it's released! Reach out to us to let us know you'd like to be kept informed, and our staff will get in touch as soon as the 2018 Chevrolet Trax arrives!
Visually Appealing
The 2018 Chevy Trax is one visually appealing ride, what with its eye-catching angular grille and flowing interior lines. The monochrome 3.5-inch screen provides pertinent driving and entertainment information, and the upgraded fender and taillights are sure to leave one last parting impression on all those you pass. Our Jim Glover team eagerly awaits the opportunity to introduce you to the 2018 Trax trim models, so be sure to check back on our website frequently to stay up-to-date on the latest Trax material!
Trax Features
It is believed that the 2018 Chevy Trax will boast a number of innovative features that ensure you can enjoy all your day-to-day driving excursions. This vehicle will offer:
USB ports
Keyless ignition
Apple CarPlay
Android Auto
Rearview camera
Seven-inch touchscreen
Automatic headlights
4G LTE Wi-Fi connection
So don't miss your chance to buy or lease one today, reach out to the Jim Hudson Auto Family to learn more now! Our Chevrolet professionals will happily provide you with the information you seek and will be in touch as soon as the 2018 Trax is available for a test drive.
2018 Chevy Trax Safety
Chevrolet has produced quality, safe vehicles for years, with the 2018 Trax being no different! Drivers will be able to enjoy a range of active safety systems, like a Lane Departure Warning that ensures you and your Trax stay where you need to be. Add to that the Rear Cross Traffic Alert and an innovative Forward Collision Alert, and you've got one secure vehicle on your hands!
Performance Specifications
The 2018 Chevy Trax is expected to utilize an aggressive 1.4-liter four-cylinder engine that is able to produce an impressive 138 horsepower rating, as well as 148 pound-feet of torque. Pair that to a responsive six-speed auto transmission, and you can rest assured your power needs are being provided for! While the Trax boasts a front-wheel-drive system, it is believed there will be an all-wheel drive option available for the 2018 Trax as well. Contact our new and used dealerships in the Tulsa, OK area for more information today!
Prepare For The 2018 Chevrolet Trax
Our collection of auto dealerships in Tulsa, Oklahoma can't wait to introduce you to the sleek 2018 Chevrolet Trax as soon as it is released later this year! Keep in touch with the Jim Glover Auto Family to stay informed on this model's release date; we look forward to hearing from you soon!